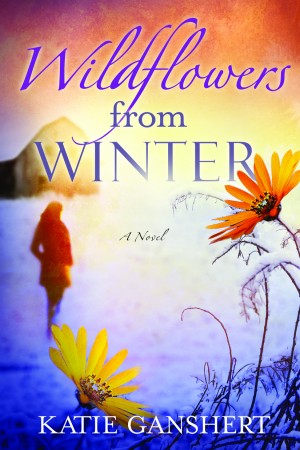 In honor of anyone and everyone who reads my journal, I'll be reviewing and giving away one FREE BOOK each month this year! Today is the release date of talented blogger and Christian novelist Katie Ganshert 's novel, "Wildflowers from Winter" (WaterBrook Press). Because the name included the word 'wildflowers,' I had to read it! So, I was super excited when Katie sent me an autographed advanced reading copy!
What I discovered was a thoughtfully written romance that will appeal to those dreaming of exchanging a life in the city for the quiet of the country. Or course, that's not what protagonist, Bethany Quinn, wants. Why would she? As a rising Chicago architect, she's on the fast track to success when an unexpected telephone call crimps her plans and summons her back to Peaks, the childhood town where she grew up. But home has its problems—including a dissed best friend, an overbearing mother, and a broad-shouldered farm boy living in her former childhood home. Uh- oh! Can you guess where this is going?
Okay, so could I. But as a former farm girl, I related to the author's affection for creaky staircases, rolling fields, and injured animals. And Bethany Quinn has her own injuries. While untangling a web of painful memories, she struggles between wanting to help those around her and leaving them behind to pursue her own ambitions. Flashbacks offer hints of why coming home is so traumatic. While I thought the book's resolution seemed to come a little too easily for Bethany, I could definitely relate to the struggle between wanting to serve myself and to serve others.
So, kudos to Ganshert on her big release!  To win this author-autographed book, post a response on my journal any time this month, and your name will be automatically entered in my drawing!
I'm on the prowl for inspiring books. What are you reading?